Abbey Funeral Chapel is a gay-friendly and supportive firm that services all families in their moments of need.  They provide an incredibly important service because not all funeral homes and chapels are welcoming to everyone in our community.  During some of the most trying times of your life, choose someone you trust to help you say goodbye to your loved ones.
Meet Gary Carolan, Abbey Funeral Chapel Director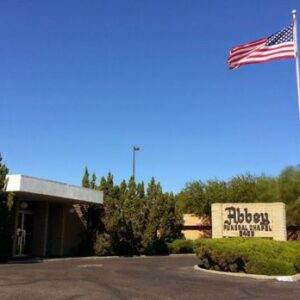 Gary has been fighting for equality for a long time.  In fact, he became interested in funeral homes to provide for families who had lost someone to AIDS.  It was a growing custom during the 80's to not service HIV+ individuals or people with AIDS.  This perverse policy negatively affected the families who had already lost someone they loved deeply, only to be insulted when trying to find a place for their loved one to rest.
Why This is Important to Me
I was crushed to hear recently the story of a close friend who had difficulty finding a funeral home because the deceased was transgender.  The lack of caring and decency was appalling, but for this to occur in 2018, after all the progress we have made as a community, put me over-the-top.
What will it take for people to realize we are all the same?  We are all sisters.  Brothers.  Lovers.  Humans, who dream, and yearn, and cry all the same.  The ties that unite us outnumber the differences that so bitterly divide us.
It is important to support amazing businesses like Abbey Funeral Chapel who treat everyone with the same level of empathy and comfort.  It is important to support good people doing good things to help others.  And, above all else, it is important to love each other fully and completely.
3435 N 1st Ave
Tucson, AZ 85719
(520) 888-1111
Abbey Funeral Chapel
Have a great day!
TonyRay 🙂