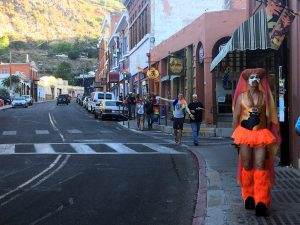 Every year on Father's Day weekend, the Arizona LGBT community and Straight Allies gather in the adorable little town of Bisbee to celebrate their pride. Come along with me on one such adventure, and be sure to catch the next incarnation of Bisbee Gay Pride!
When and Where is Bisbee Gay Pride?
Get to Bisbee by driving South on I-10 and taking a right on Highway 80 in Benson. From Tucson, it's a little over 1.5 hours, 47 if you're coming from Benson. Gay Pride Weekend corresponds with Father's Day Weekend, occurring on the third weekend in June. It may seem like a long way to go, but a bunch of your friends from Tucson will be there and it really is one of the better parties of the year!
What Can I Expect at Bisbee Gay Pride?
There are so many things to do and ways to celebrate in Bisbee and the surrounding area, but what follows is my tried-and-true method for having a great time at Bisbee Gay Pride.  We call this The Move.
The Move starts at a quaint little bed and breakfast on Friday night. Try the Copper Queen Hotel or the Bisbee Grand, you'll love either place.  I highly recommend locating yourself around the Main St. part of town. That is where all the action is and you don't want to have to drive back to your hotel room after a full night of partying.  The drunken stumble back to your bed is a quintessential part of The Move.
What's Next For The Move?
The Move is to then walk the crowded, action-packed streets, observing the myriad booths and vendors set up for the weekend.  The streets fill up on both Friday and Saturday with live music, so be sure to get your groove on!  The town blocks off the roads from car access around the Copper Queen, so begin there and meet up with all of your friends.
The next Move is to head across the street to the Underground Dance Party.  I would tell you where to go, but it's better for you to just head down and discover for yourself.  Dance to some high-energy dance music and have a few cocktails, powering you up for what's next!
The Move then takes you on a club crawl, guided by a drag queen carrying a high heel on a stick.  You'll be heading from bar to bar, effectively getting a crash course in Downtown Bisbee.  As you reach the end of the pubs, the MC will organize the flock into a Drag Race.
No, not the type you're thinking of, this race consists of your drunken friends, wearing dresses and high heels, and running up a small hill.  Cue the ankle tape and the ice packs!  It's a hilarious time for all involved and will truly punctuate your time at Bisbee Gay Pride.
See You Next Year!
Still not convinced? Bisbee Gay Pride is an awesome time with your best friends in a wonderful little town. There are some fun activities that I have never seen anywhere else, making Bisbee Gay Pride a one-of-a-kind event.  It's just a short drive South to have an amazing weekend and you'll even see Darren and I on the club crawl.  See you next year!
Have a great day,
TonyRay 🙂