The hub of development within the Menlo Park Neighborhood, the Mercado District Neighborhood features modern, upscale residences next to a thriving open-air marketplace.  The goal was the development of a modern European oasis, complete with planned walking paths, gorgeous fountains, and numerous community areas.  I think they more than accomplished this lofty goal!
The Mercado District Neighborhood, coupled with the Mercado San Agustin (marketplace) and the Tucson Street Car, combine to offer the perfect connected lifestyle.  You have everything you need within a short walk or fun ride; you'll barely use your car!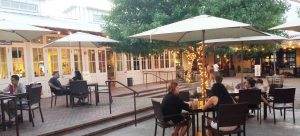 Mercado District Neighborhood: Things To Do
The Mercado District is a thing to do in and of itself!  I could devote countless pages to the delectable restaurants, quirky retail shops, and swanky professional offices that you can find in and around the Mercado San Agustin.  Here's a challenge: the next time you have a lazy Saturday where you can do anything you want, hop in your car (or the Light Rail) and visit the Mercado District.  You're sure to fall in love with the sights, sounds, and best of all, smells of this wonderful little neighborhood!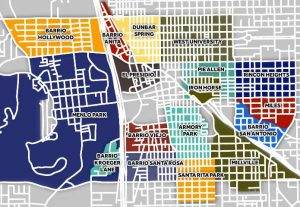 Mercado District Neighborhood: Homes
The meticulously planned neighborhood contained within the Mercado District is a welcome return to a simpler life.  Quiet streets meander past well-proportioned, split-level homes before they outlet to wide, open spaces.  This thriving area, once a walled-in city back in the 1700s, now offers the perfect location for you to build your life!
Call Tony Ray today for the newest homes for sale in Mercado District: (520) 631-TONY (8669)