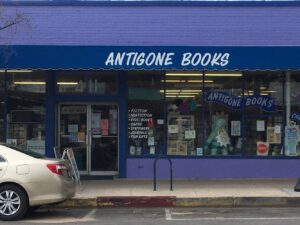 Antigone Books was founded in 1973 as a predominantly lesbian-owned feminist bookstore. This was at a time when there were more than fifty independent bookstores in Tucson. In the decades since the number of indie bookstores in the city has dwindled. Still Antigone Books has remained a pillar of the local book-loving community, expanding our mission to be a community bookstore with feminist roots. Although ownership has changed hands a couple of times since we originally opened in the 70s, we've remained women-run from the start. The current owners and long-time Antigone Books employees Kate, Melissa, and Morgan took over in 2018. They have expanded the store's selection of books, gifts, and cards while remaining true to the store's original focus on the recently-published boundary-pushing literature.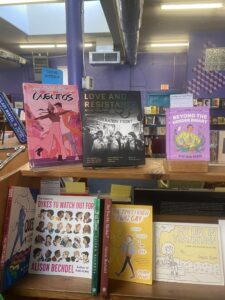 The Store
We keep a circulating stock of Pride supplies on hand throughout the year. From flags representing all identities across the LGBTQIA+ spectrum to dog- and cat-themed rainbow stickers. We also maintain a thriving queer literature section (see photos!), where we keep classic gay, trans, lesbian, and ace titles in stock. Readers can find everything on our shelves from LGBTQIA+ children's books and YA fiction to queer graphic novels and LGBTQIA+ non-fiction. We also get regular issues of Sinister Wisdom and RFD as well as the latest lesbian romances from Bella and Bold Stroke Books. Whatever we don't have in stock we're happy to order for our customers at no extra charge! You can place orders in our store, over the phone, or online and we can get most titles in within a week.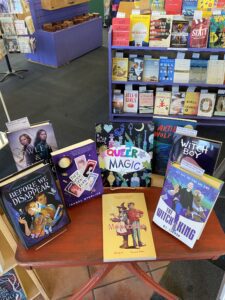 Though our events program is on hold indefinitely due to COVID-19, pre-pandemic we were home to seven local book clubs and we featured regular book signings, author readings, and we had just begun to host Drag Queen Story Hours. We look forward to supporting our community with these and more exciting options in the near future; keep an eye on our website for updates! We also run a local authors consignment program for Tucson writers whose books are self-published or not available through major book distributors. We're always looking for new voices, so definitely reach out if you're interested after checking out the "Consignment" page on our website. In addition, we proudly carry local free periodicals of the Tucson queer community such as the 55+ LGBT newsletter Senior Forum and the Tucson Pride guide. Whether you're new to town or a regular search for that perfect book, we're excited to welcome you!
REVIEW:
"LOVE Antigone Books! This is generally my first stop if I'm looking for gifts or a physical book. Love their selection of adult coloring books, blank journals, cookbooks, and local authors. Their feminist and LGBTQ+ selection is also pretty impressive. And, they host a few book discussion groups. The staff is always friendly, and I like the sense of community."
-Ginger, ***** Google Review
STORE INFO:
Company Name: Antigone Books
Office Address: 411 N 4th Ave, Tucson, AZ 85705
Phone (s): (520) 792-3715
Website: www.antigonebooks.com
Office hours: Tues-Sat 10-5; Sun 11-4; closed Mondays