More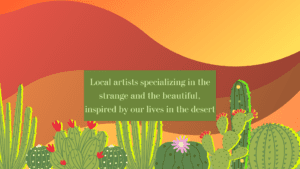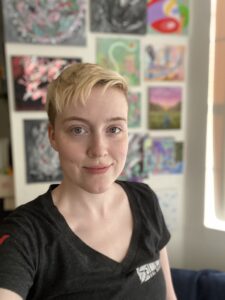 Desert Rat Art Collective is a local Tucson community of artists that specialize in the strange and beautiful, inspired by our lives in the desert. They see the charm of the dirt and mountains and know that no matter where life takes them, they'll basically always be desert rats at heart. DRAC is queer-owned and operated, and was founded by artist Tierney after their group of friends got together every Friday for about 2 years to make art together. Those little gatherings still go on, and now they have a website to support art sales now that they've run out of wall space to show everything off.
Desert Rat Art Collective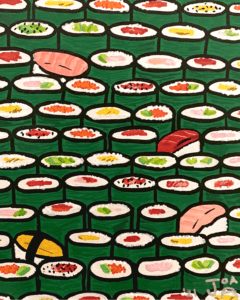 DRAC specializes in selling original canvas art pieces online, but also offers prints, merchandise, and also accepts mural requests around town! Their art is usually cheeky, with wildly different styles between the current members. E/ze, the anonymous artist featured exclusively on their website, creates heavily textured pieces inspired by street art. You can feel the deep emotion in every piece. Ry Arvin is an expert in all things text and font. They're wildly creative with mandalas, text, and also reimagines the margin-doodles of our teenage years. Tierney, the founder, and manager of Desert Rat Art Collective creates a wide variety of prints and patterns. Using the same techniques in their digital art as their physical canvas work, creating strong lines and measured shading.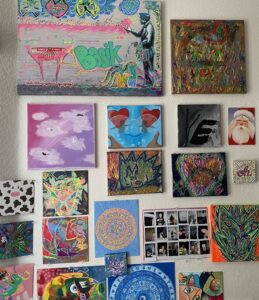 Tucson and the Sonoran Desert will always hold a special place in Desert Rat's little heart. Moreover, they want to honor and give back to the community. They've got big dreams of being able to provide free art supplies to underfunded schools throughout Tucson. Sharing the love of art to everyone they can. The website itself takes only 3% commission which is far less than physical gallery spaces. Any DRAC money leftover after the minimal website maintenance costs goes right back to supporting local Tucson small businesses and art ventures.
Company Name: Desert Rat Art Collective
Office Address: Online
Contact Name (s): Tierney
Website: Desertratac.com
Socials: @DesertRatArtC
Client Review
"The original piece by JackofAllArt is the highlight of our kitchen. The meticulous care given to every detail and the bold use of color make this an outstanding creation. We love it!" – Windy Lynn, owner of Sushi Flood by JackofAllArt