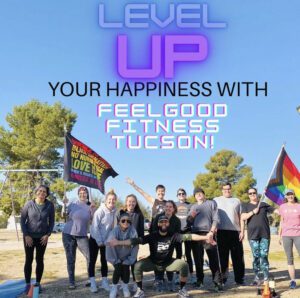 The FeelGood Fitness Tucson community supports one another in developing an overall sense of well-being while maximizing joy through fitness. We offer fun outdoor fitness classes designed for people of all ages and abilities. Our community prides itself in being an all-inclusive, authentic, energetic, safe, and caring community that is 100% body-positive and LGBTQA+ friendly. FeelGood Fitness HIIT (high-intensity interval training) classes in public parks include a full-body workout that incorporates strength training, flexibility, and cardiovascular health. FeelGood Fitness Coach Antonio Rubio offers expert training, support, accountability, and inspiration to help his clients meet their personal goals. "I am committed to serving others and cultivating a judgment-free community of fitness friends."
FeelGood Fitness Tucson Formation
FeelGood Fitness Tucson came to being at the beginning of the COVID-19 pandemic. Coach Tony was laid off from his job as a Personal Trainer & Group Fitness Instructor at a local gym that is now permanently closed called the Nerd Gym. Once Coach Antonio realized that the pandemic affected his community's mental, physical, and social health, he leaped into action. He invested his life savings into FeelGood Fitness Tucson, and he created a safe outdoor fitness space where people can feel connected to the community and enhance their emotional, physical, and social well-being in a time that our community needed it the most.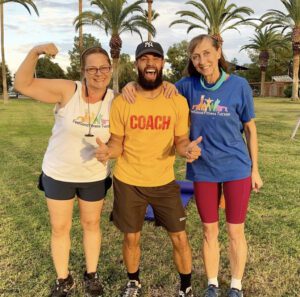 Coach Antonio is super passionate about providing space for people that the fitness industry typically underserves. He also is passionate about cultivating community. "I am a Tucson native, and my community here in Tucson has always provided space for me in some of my lowest and darkest periods of life. It is comforting to know that we have the power to create a family through community. If it weren't for my community, I would not be the person I am today. We all deserve to take up space, feel loved, appreciated, and valued. I try my very best to give that feeling to everyone that comes to my classes or utilizes any of my services."
There is no other fitness space in Tucson like FeelGood Fitness. Coach Antonio is one of a kind and will inspire you to be the best version of you.
If you are interested in services, you may contact Coach Antonio himself via email [email protected]com or call (520) 358-1264.
Tell him Tony Ray at GayTucson sent you : )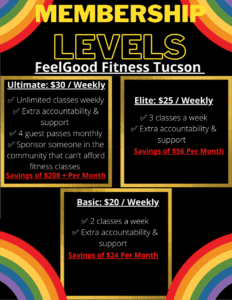 Client Reviews
"Joining Feel Good Fitness was the best decision I could've made for me and my health this year. Since working with coach Antonio I've gained many positive habits, and met many awesome people along the way. It's only week four of my 12 Week Program and my body is already transforming. Previous to starting I had a shoulder injury that required surgery, but after strength training I may not need it anymore and that is such an exciting thing for me! Every session is full of laughs, positivity and hard work, I look forward to my time spent with coach Antonio, he is the best and his dedication to all of us is beyond admirable."
-Deij Jimenez
"There is so much I could say about this one man wonder. Antonio is a true light of positivity bringing happiness, wellness, and health to Tucson. He is extremely driven by his clients success, and is hyper-focused on YOUR goals. Antonio is able to cater to whatever physical needs you may have. He creates personalized workouts, that he shares with you after your personal session so you can go home and continue the progress you have started!! I have never met anyone like him, he is truly changing the Tucson fitness community one client at a time.
If you have gone from personal trainer to personal trainer, gym to gym, maybe not seeing results, not hearing the things you want to hear, please reach out because he is seriously unlike no other. I have personally been on my fitness journey for 4 years, and have never felt so motivated and cared for by someone who I am simply a client for. Much love for FeelGood Fitness Tucson."
-Kayla Stegner