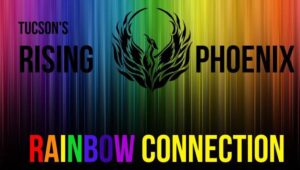 Tucson's Rising Phoenix Self-Defense & Fitness is a unique, queer-friendly martial arts and self-defense gym open to all ages, skill levels, and fitness levels. Rising Phoenix has named this branch of their program The Rainbow Connection.
Our Approach
Founded in 2014, Rising Phoenix takes a different approach to self-defense training by using therapeutic martial arts instruction to promote healthy human connection, emotional control, and the importance of consent.
Each class focuses on street-smart self-defense skills and concepts designed to be immediately applicable to real-world situations. The self-defense we teach is based on Israeli Krav Maga, specifically intended to be practical, functional, and quick to learn.
In 2021, the Israeli Martial Arts Hall of Fame named Rising Phoenix the Best Krav Maga School in Tucson.
The Rainbow Connection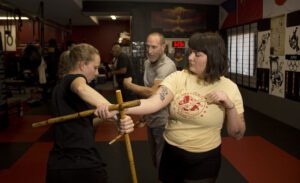 Rising Phoenix provides a welcoming environment for people in the LGBTQIA+ community to be themselves, gain confidence, and learn valuable skills. Rainbow Connection is our weekly donations-based self-defense class for the LGBTQIA+ community and allies.
Rainbow Connection was established as part of Rising Phoenix in 2016. The program was created by former gym member James Cook, who saw the need for self-defense training among his fellow members of the LGBTQIA+ community.
Our Rainbow Connection classes provide training specifically designed to address concerns in the queer community. We practice trauma-aware instruction, focused on helping students take ownership of their minds and bodies to challenge their comfort zones and discover what they're capable of.
Rainbow Connection is a safe place. Its dedication is to helping participants effectively learn and use assertiveness and self-defense skills in uncomfortable, intimidating, and scary situations. Our instructors and students use their strengths to help, support, and encourage each other to succeed.
Our Classes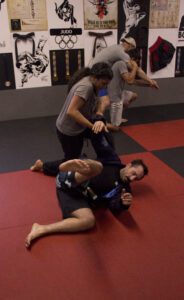 Tucson's Rising Phoenix offers a variety of self-defense, martial arts, and fitness classes, ranging from Krav Maga, Yoga, and Group Fitness, to Brazilian Jiu-Jitsu, Judo, Weapons Tactics, and more!
We have two donations-based classes that are open to the public: Our Rainbow Connection LGBTQIA+ self-defense classes every Saturday from noon – 1:00 p.m., and our women's self-defense classes every Friday from 6:00 p.m. –7:30 p.m. and every Saturday from 3:00 p.m. – 4:30 p.m.
One-on-one private lessons, small-group private lessons, customized group workshops, and corporate training sessions are also available.
Our Owner
The founder and owner of Rising Phoenix, Jesse James Tucker, has been teaching self-defense and Krav Maga for over 15 years. He holds black belts in four different Krav Maga systems. He is also a certified Krav Maga instructor with the Federation of Israeli Martial Arts (FIMA).
Jesse has been inducted into both the USA Martial Arts Hall of Fame and the Israeli Martial Arts Hall of Fame. He was named Defense Master Instructor of the Year in 2021 by the USA Martial Arts Hall of Fame.
Reviews
Matt S.
"Stepping into a martial arts gym can be really scary, especially when you're not a "Tough Guy," but summoning my courage and walking through the doors at Rising Phoenix is the best thing I've done since relocating to Tucson three years ago. Jesse and his fellow instructors go out of their way to make people of every age, body type, culture, and orientation feel welcome and empowered with the best in modern martial arts training.
Rising Phoenix's Krav Maga isn't static: It's constantly evolving and incorporating techniques from kickboxing, jiu-jitsu, and catch wrestling, alongside the tried and true martial education in Israeli Krav Maga you'd expect. Rising Phoenix also offers more stuff than Krav Maga, too: specialized instruction in Judo, BJJ, and Muay Thai, weapons, and you can take as much as you want for one price. I look back at the years I've spent training here and see a totally changed me. I'm tougher physically and psychologically, and my day-to-day life is better for it. Thanks, Jesse!"
Kristina S.
"I can honestly say training at Rising Phoenix is one of the best decisions I have EVER made. Whether you are at a beginner or advanced level in Krav Maga, BJJ, etc, this place makes you feel right at home. I have never met any instructors who are as passionate about teaching self-defense. Jesse, Chance, and Alicia are three of the most amazing people I have met in Tucson. I can ask endless questions, pose endless scenarios, and someone is ALWAYS ready to help and answer my questions.
Instructors will stay after class with you for more than an hour to discuss your personal training plan, answer any questions you might have, or just to talk about your experiences and what brought you to Rising Phoenix. They care about your personal experience and want to help you get what kind of training you're looking for.… I have learned so much from Rising Phoenix, and I cannot wait to continue my training. I have gone to other gyms in Tucson, but there is no place better to train than Rising Phoenix. The atmosphere and the instructors are unbeatable."
Jeremiah Thomas
"The people here are amazing. The instructors are professional, helpful, willing to show techniques that meet your fitness level, and very supportive. The training here is awesome. From real-life situations to multiple scenarios per technique, the instructors here are on top of their game. The group fitness class is great. It will work you into fighting shape pretty effectively. If you come, just say hi to anyone, and you will find a friend at this gym. I have been coming here for a couple of years now. Every new person is immediately treated as someone you've known for a lifetime. It really does make this such an inviting place to learn how to defend yourself and others."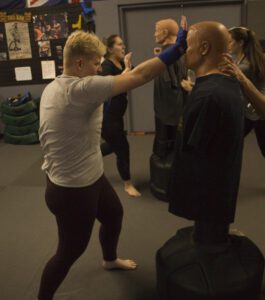 Company Name: Tucson's Rising Phoenix Fitness & Defense
Office Address: 4500 E Speedway Blvd, Suite 4, Tucson, AZ 85712
Contact Name (s): Jesse James Tucker
Phone (s): (520) 838-1592
Email: tucsonrisingphoenix@gmail.com
Pricing: sliding scale
Website: https://tucsonselfdefenseandfitness.com/
Office hours: (Please check our website for class times)