Therapy-For-All.Square.Site
(360) 784-4050
4021 E Grant Rd. Suite 145
Tucson, Arizona 85712
Nina Bingham's Work on Amazon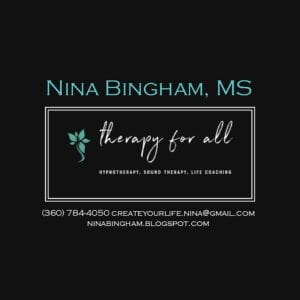 Nina Bingham is an award-winning Author and life voyager who strives to inspire conscious living and conscious dialogue. She writes books that are electric with honesty and passion, causing readers to explore topics such as the soul. Nina earned an AA in Psychology, a BA in Applied Psychology, and completed her MS in Mental Health Counseling program. She is a master-level Clinical Hypnotherapist, a Certified Sound Therapist using tuning forks for painless acupuncture, a Reiki Master who was initiated and taught by a Peruvian shaman, and an Intuitive who channels books about the Archangels. Nina is a member of the International Alliance of Holistic Therapists and has been in private practice for 19 years.
Nina lives with her wife and dog in Tucson, Arizona, and can be found paddling her kayak on Arizona lakes. Before moving to Tucson, she and her wife lived in Portland, Oregon where Nina had a mental health counseling private practice. Personally, she is a practicing Hindu who received the honorary name Devi from her guru in India (but you can call her Nina). She enjoys growing and smoking her own brand of CBD flower, Devi's Dream (it doesn't make you high, just happy). Her wife Rachael sells CBD products such as CBD flower, oil, and pain relief products. Her greatest joy in life is to engage with the LGBTQ community, and she has written her difficult coming-out story in her autobiography, Once The Storm Is Over (you can find her books on Amazon).She also writes a self-help blog: ninabingham.blogspot.com
Clients describe Nina as professional, caring and insightful, and she is a 5-star Groupon merchant. Jeanne left this comment on Groupon about her first Hypnosis session: "Very nice and relaxing experience! This is my first Hypnosis experience but definitely won't be my last!"