We are excited to welcome the talented Amy Lynn Bumpus to the Tucson Gallery family. Amy will be hosting an intimate Meet The Artist event on February 9th, 2023 from 5pm to 7pm. During the event, you can expect an in–depth look into Amy's work, as well as a chance to meet the wonderful artist herself.
Amy Lynn's work is inspired by her love of nature, animals, and the human condition. She uses a variety of materials in her work including paper, paint, and found objects. Her current preferred medium is paper and she uses old National Geographic magazines to create incredible images. By cropping pieces from these magazines, she is able to capture the essence of different cultures, current events, and our environment.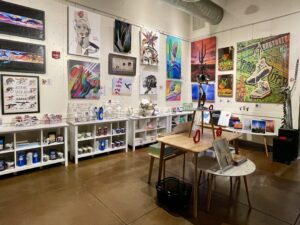 At the Tucson Gallery Meet The Artist event, you will have a chance to ask Amy questions about her work and her creative process. You will also be able to purchase some of her works, including prints, originals, and commissioned pieces. Additionally, Amy might be making some of her work onsite, so you can watch her create something from start to finish.
Don't miss this incredible one-time opportunity to meet one of Tucson's most talented new artists. Join us on February 9th, 2023 from 5pm to 7pm at the Tucson Gallery inside Proper Shops at 300 E Congress Street in Downtown Tucson. We look forward to seeing you there!
Find Out More About Amy Lynn's Meet The Artist Event and More Events Like This at the GayTucson Calendar!