Friday, October 9th, 2009
6:00 pm to 9:00 pm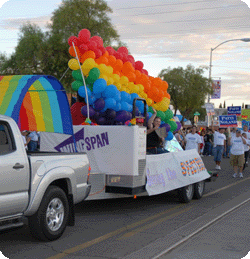 Celebrating their 5th year, The Tucson Gay Pride Parade will start at the corner of 4th Avenue and 2nd Street and will proceed down 4th Avenue.  The parade will arrive at Wingspan, where there will be a concert and sneak preview of the Gay Pride headliners scheduled to appear the next day.Click on the pride parade map to the right for map and details or go to
www.TucsonPride.org
for more information
Friday, October 9th, 2009
7:00 pm doors open.  8:00 pm to 10:00 pm ?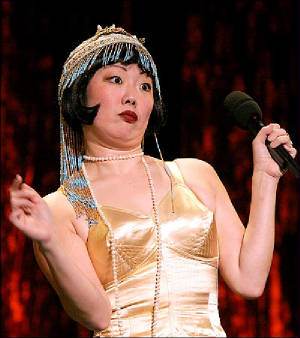 It may be a coincidence, or was it planned?  Tucson's Gay pride parade is on October 9th and Pride in the Desert is on October 10th at Reid Park.
Margaret Cho is appearing at the Rialto on October 9th!  (Get your tickets now online or at the Rialto box office).
So, will she stop by gay pride?  Can we convince her to stop by gay pride?  Should we write letters begging?  Should we send a fruit basket?
Saturday, October 10th, 2009
10:00 am to 8:00 pm
Pride in the Desert at Reid Park will surely prove to be another great time.  Pride in the Desert is an all-day festival held at Reid Park that attracts more than 6,500 participants each year.
Highlights of the festival are local, regional, and national entertainers performing live on our main stage as well as several smaller stages and dance areas featuring drag shows and other live entertainment.
In addition to the multitude of entertainment venues, Pride in the Desert features commercial and non-profit exhibitors, a food court, and interactive displays and activities.
Host Hotels include:
Hilton
Adults 13 and over $12.00
Children 5-12 $5.00
Children under 5 are free
Entertainers Scheduled for the
2009 Gay Pride Event
Johnny McGovern & Team Pimp
Ari Gold
Adam Joseph
Jessika Murphy
Boys R Us
Marc Pedraza
Courtney Robbins
Namoli Brennet
Achy Birds
Angie Evans
Sabra Faulk
Patty Larkin
Too Much Information
Dat Gurl Famous
Bunny Fu Fu
Curt Beall
Janet Bond
Candice Aaragon
Leila Lopez
Coyote Kings
Lisa Otey
Diane Van Deurzen
Reveille
Jessika Murphy
Arthur Migliazza
Chris Jacobs
Amber Norgaard