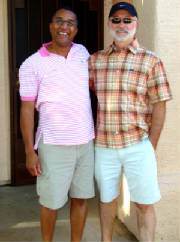 My partner, Stephen, and I recently relocated to Tucson and were in search of a new home. We were unsure of how to chose a Realtor who would 1) be receptive to our needs and 2) have a pleasant, compatible personality.
Before the move we had googled "gay Tucson" and hit on GayTucson.com.  Here we found great information about restaurants, bars, entertainment, and other information relevant to GLBT persons.
A relocation package was available and we took advantage of this to help with our move. A few days after we had settled into our temporary condo in Tucson, we contacted Tony and he said, "We're here to help!"  He said not to worry, that he was sure that he could help us locate exactly what we needed in a new home.
Two days later, Tony was taking us on his, "Three Hour Tour" navigating us throughout all the many wonderful, diverse, and unique neighborhoods of Tucson.  This gave us a better sense of the city and what areas/neighborhoods were convenient and fit our needs.
The next day we continued our search for the perfect home and towards the end of the day still had not yet found, "The One".  But the next to last home seemed to be more of what we were looking for.  After a second visit the next day confirmed our initial impressions and we made an offer.  The following afternoon were in contract.
The next two weeks were a blur of inspections, paperwork, and signatures.  Tony was extremely helpful and supportive with his daily phone calls and promise that we would truly close in just seventeen days after signing a contract.
Also, his little black book of contact numbers of everything from mortgage broker, title agent, inspectors, etc., proved to be most convenient and helpful in this process. True to his word, Tony was able to get us to closing in the promised time with a minimal amount of angst and drama.  We now have the home we always wanted!
Sincerely, Richard
Hope Your Day is Amazing!
Tony Ray 
Helping the LGBTQ Community with Real Estate in Tucson AZ Since 1994
Gay REALTOR®
Gay Real Estate Agent Tucson Arizona