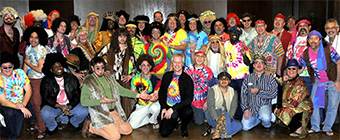 Reveille Men's Chorus
PO Box 43633
Tucson, AZ 85733
(520) 304-1758
info@reveillechorus.org
Website & Social Media:
reveillemenschorus.org & Find them on Facebook
Reveille Men's Chorus is Tucson's internationally recognized men's chorus. Formed in 1995, Reveille Men's Chorus is dedicated to musical excellence and performs worldwide to promote human rights, diversity, and a world free of AIDS.
RMC meets for rehearsals every Monday from 7:00 -10:00pm
at Rincon Congregational Church
122 N Craycroft, Tucson 85711.
New members, both singers and volunteers are always welcome!
Reveille Men's Chorus on the GayTucson Event Calendar