Presidio Hair, and Ed Thibeault in particular, have been a huge part of my life for almost 20 years.  As a REALTOR, being well-groomed and stylish is a huge part in presenting myself as knowledgeable and respectable.  In essence, I owe all of my success (well, most of it) to Ed's brilliant eye and his quick fingers 😉
But let's be honest, the old Barbershop paradigm was from a time past.  How often have you walked into a dusty, old building and been hit in the face with a wave of chemical smells.  Conditioners.  Perms.  All of it, saturating the air…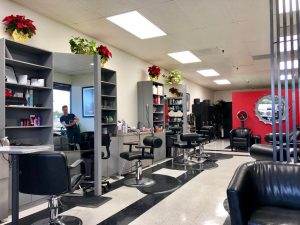 Thankfully, those times are long past at Presidio Hair.  Ed and the team have constructed a delightful, modern hair studio that combines the best of the old and the new.  Come along with me on a trip to the barber…
How Do I Get To Presidio Hair?
The new location has moved, but not too far, so long time fans won't have to drive too much further.  Presidio Hair has long been a fixture on the corner of Speedway and Alvernon, but it's changed sides.  After spending most of it's history on the Southwest Corner, they have relocated to the ever-sunny Northeast corner of the intersection.  The move offers a bit more parking and a truly cutting-edge design.
What Is It Like Inside Presidio Hair?
The new Presidio Hair is bright, clean and open; almost inviting you in for a good time.  The design is a modern black and red concept which is punctuated by grays and metallic finishes.  The chairs are black, leather, and oh-so-comfortable.  It's almost a shame when your name is called, you'll want a few more minutes in the lounge area.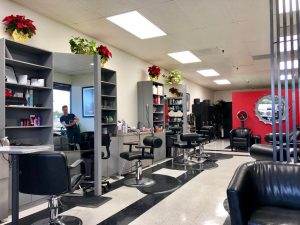 The biggest new addition to Presidio Hair is the air filtration system.  My friends and family have grown accustomed to spastic bouts of allergies caused by the most common irritants, from cat hair to pollen and dust.  However, what really exacerbates my allergies are chemicals.
I have a horrible reaction to chemical irritants, ranging from puffy eyes to an inability to breathe properly.  I am always leery as I enter salons because I know what's coming, but Presidio Hair offered me a completely different experience.  As soon as I walked in, the air smelt clean and fresh, without a hint of chemical residue.  It was the best experience I have ever had in a salon of any type!
Get Over To Presidio Hair Right Now!
Why are you still reading this?  Whether you want the newest hair style or a more classic cut, Ed Thibeault and my friends at Presidio Hair will make you look amazing!  You will also have a wonderful salon experience, complete with the plush chairs but minus the oppressive odors.  Schedule your next appointment by calling (520) 321-9626 and be sure to ask for Ed.  You'll be happy you did!