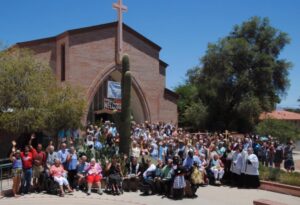 There are many great ministries out there in Tucson but here's a new one (to us.) Grace St. Paul's Episcopal Church has a rich history in Southern Arizona, but it's our future that's so exciting.
About the Church
Starting in 1889, we have always addressed the spiritual and other needs of everybody in our community. As early as the 1940s we were a diverse congregation, opposing segregation. In the 1960s we sang for peace, and in the 1980s we had the first woman Episcopal priest at the altar in Arizona. Through the 1980s and 1990s, LGBT issues were represented through advocacy in the world and in the pulpit, and commitment ceremonies were common – even before legal marriage. Now the LGBT community is represented in every ministry and leadership in the parish.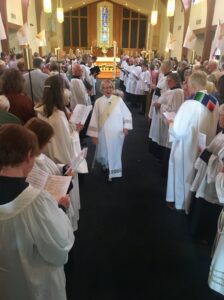 In our current ministries, we serve immigrants, the working poor, the homeless, the hungry; those who search for meaning; families – both traditional and non-traditional; and those looking for beauty, diversity, and community.
But is Christianity still relevant in the 21st Century? We say yes. We are often at odds with old Christianity. Most of us resist easy, simple answers… Our music – steeped in the beautiful traditions of old-world European harmonies, worldwide 20th-Century music, and American gospel and spirituals – is often adapted to reflect modern theology. And in our classes and meetings, doubts and questions are common and valued.
At Grace St. Paul's, we find opportunities to work alongside and serve people unlike ourselves. We advocate for people, animals, and the planet, we enjoy being a part of great music. We hear unique, modern messages, relevant to our times; and we meet old and new friends whom we care about.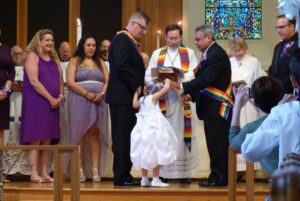 Grace St. Paul's
YOU are essential to our community life! Come share at these times, in person or online:
Service Times
More About the Parish
2331 E Adams Street (near the Arizona Inn)
We look forward to meeting you. We welcome all people . . . who welcome all people!