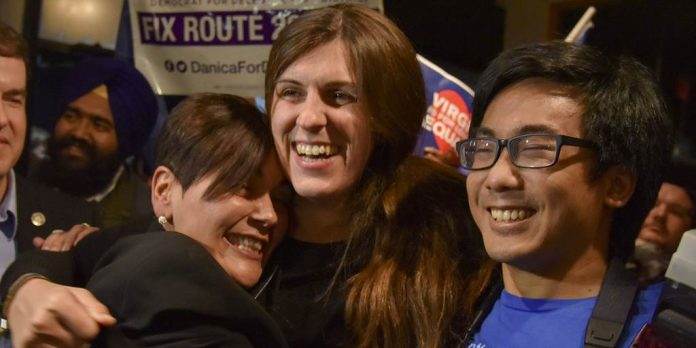 First Transgender Women Elected to Statehouse in Virginia:
Our movement for equality got a huge shot in the arm with our nation's first openly transgender woman elected to a U.S. Statehouse.  Danica Roem, a Democrat, ousted the most socially conservative state lawmaker in Virginia to become a shining star for everyone who has been feeling a little dispirited with what has been happening in America.
Transgender Woman Elected: The Good
It was a huge victory for treating people the right way.  Danica also ran the right way; no skeevy attack ads or disinformation campaigns aimed at turning people away.  She, along with staff and volunteers, knocked on tens of thousands of doors and participated in public appearances and interviews, allowing her constituents to see who she is and what she stands for.
Transgender Woman Elected: The Bad and The Ugly
Her opponent, on the other hand, deserved to lose.  He disrespectfully refused any debate on the substantive issues, instead retreating to his homophobic grab-bag of insults and insinuations.  He steadfastly referred to Ms. Roem in male pronouns and even released attack ads disparaging her transgender identity.  In essence, he bet his house on discrimination.
Well, discrimination was disqualifying this time around (as it should be).  It also shows the waning strength of the culture warriors.  The Good 'Ole Boys club that does everything in their power to hide from the unbending arc of social justice.  There will be a time when a transgender woman winning a statewide election will be no big deal, but now is not that time.
Transgender Woman Elected: This one is for us all
Let us celebrate the success of the pioneering people whom take our cause even one step further. When one subjugated citizen is able to speak up and demand their rights, we are all uplifted.  As Danica put it, "(Her win was for) every person who's ever been singled out, who's ever been stigmatized, who's ever been the misfit, who's ever been the kid in the corner, who's ever needed someone to stand up for them when they didn't have a voice of their own. This one is for you."
This one is for us all.
Have a great day!
TonyRay 🙂