Yes, we know that most people are familiar with the Cruella character from Disney's 1961 animated classic 101 Dalmatians. The black and white skeletal figure with a gash of red lipstick for a mouth, plotting doom for precious puppies because it suits her. Cruella is not this story. This is an origin story, and for the purpose of this review, I'm going to assume you've seen the 2021 live-action movie starring Emma Stone. I want to talk about 3 things that caught my attention in the film. Beware, spoilers ahead and possible trigger warnings.
The Fashion
From beginning to end this film is overflowing with eye-catching fashion. The costume designer is Academy Award-winning Jenny Beaven of Mad Max: Fury Road, and Room with a View. Emma Stone reportedly had over 40 costume changes in the movie and every one of them was amazing. Even her "plain" work attire has classic lines and a beautiful silhouette reminiscent of designer royalty Vivienne Westwood.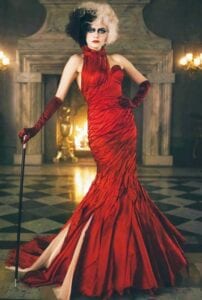 As the movie progresses Cruella looks sharper and more extravagant with every costume change. Perhaps the most notable being her appearance at the black and white ball held by the Baroness. The simple white cloak Cruella wears as she crashes the party goes up in flames revealing a vibrant red dress. The cut and movement of the fabric give the impression that the garment itself could still be on fire. 
I'm not going to break down every fantastic frock, but I will say that even if you don't like the story, it's worth watching for the fashion!
The Queer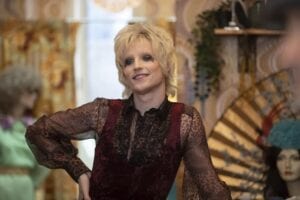 Before Estella becomes Cruella, she befriendeds by Artie portrayed by John McCrea. A glam-rock esthetic influenced heavily by David Bowies Ziggy Stardust, Artie presents as queer and non-binary. On whether his character was meant to be queer or if McCrea chose to play them that way, he said this to Attitude:
"It depends on who you're asking I suppose – but for me, yes, it's official: he's queer," McCrea stated.
Much like Cruella, Artie is a fabulous fashionista, sporting androgynous clothing and makeup. Disney has often danced around gay characters; you can find about 7 Disney characters who have all previously been touted as Disney's "first gay character." However, none of them really sticks in the mind the way Artie does. Queers near and far will love Artie's attitude on life. They may get looks but they don't care, and that's a mentality we should all have.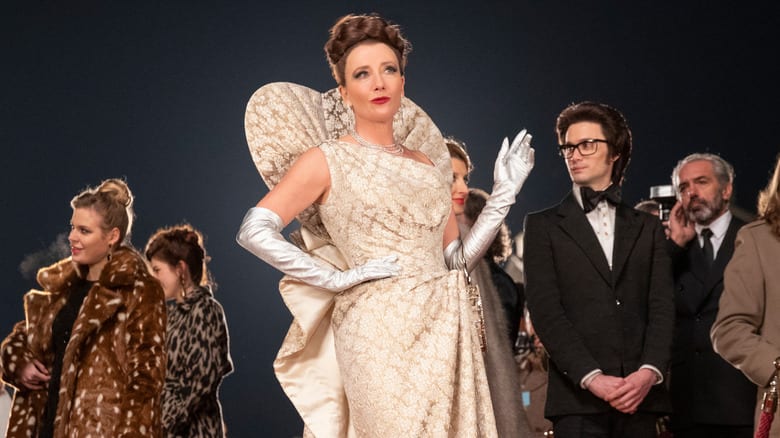 The Gaslighting
Gaslighting is prevalent throughout the movie, perpetrated primarily by Cruella's bio mom the Baroness. If you don't know what gaslighting is, it's the sustained psychological manipulation to make the victim doubt their memories or even their sanity. If you've been a victim of it you may find sections of this movie uncomfortable or triggering.
The emotional abuse is glaring, obvious, and downright painful to watch. If Cruella is the hero of this story, there must be someone even viler than she to play the villain. The Baroness provides. Her self-serving narcissism is exaggerated like most villains are but it's the gaslighting that is insidious and truly frightening because it happens every day to people all over the world. 
Of all the spectacular things in this movie the gaslighting feels the most real, culminating with the Baroness literally shoving Cruella off a cliff. When she turns around and finds herself surrounded by witnesses, she immediately starts yelling, "You all saw it! She jumped! You saw she jumped." 
Conclusion
While the film deals with very real ugly gaslighting, it wraps it in opulent fantasy, fashion, and fiction making for an overall good viewing experience. I would highly recommend you give it a look even if you wait to grab it from a RedBox.
Cheers,
Jenn