Coming this weekend to a dusty ranch-town near you is the 33rd Annual Arizona Gay Rodeo!  Set in the historic Corona Ranch in Laveen, Arizona, come watch real-life cowboys perform iconic Western stunts and compete for prizes and the adulation of the adoring crowd.
The Corona Ranch is the Perfect Host for the Arizona Gay Rodeo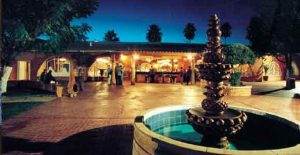 Located a short drive from both Downtown Phoenix and Sky Harbor Airport, the Corona Ranch has been wonderfully redone.  Combining the old and the new, athletes will compete in a well-worked dirt (8 inches) arena.  They will be surrounded by a state of the art sound system and well-maintained seating areas.
There is So Much to Do and See at the Arizona Gay Rodeo
When you come to the 33rd Arizona Gay Rodeo, you're not just coming to any old AZ horse show.  The amazing planning team have outdone themselves with 4 days chock full of fun events and things to do!
From the opening tunes of the "Country Idol Competition", kicking of the weekend at 7pm on Friday night, to the bookend "Survivors Brunch" Monday morning, you'll barely have time to sleep.  The central rodeo competitions will be held on both Saturday and Sunday, starting at 10am with events continuing throughout the day.
You'll especially want to check out the VIP Party Buses!  They head to various hotspots near the rodeo location, showing off different amazing parts of Laveen, Arizona!  Buses run every 30 minutes, so be sure to keep your eyes open to spot the next VIP Party Bus.
A Great Time, Even If Rodeo Isn't Your Thing
I know what you're thinking.  I remember suffering for school trips to Rodeo Days.  And I'm more fond of the nostalgic Old West from a distance.  However, you owe it to yourself to give this years incarnation of the Arizona Gay Rodeo a chance.  It's a one-of-a-kind event in a one-of-a-kind location and you're sure to have a wonderful time!
As Always, tell them Tony Ray sent you! 😎
Click Here to Learn Everything You Need to Know about the 2018 Arizona Gay Rodeo!