G3 Tucson, the incredible team behind the popular event series sweeping the Old Pueblo, has reserved a the perfect spot for February 2018.  Meet your friends and fun new people at RED'S Smokehouse and Tap Room, a Tucson Style BBQ with delicious entrees and a full bar featuring over 100 beer choices and craft cocktails.
They'll be filling up the joint with reserved seating both inside and outside, so be sure to come early to choose your favorite spot.  Beyond the luxurious libations, you are encouraged to sample the delectable menu of Signature Sandwiches and Southwest Specialties!
I've Never Heard of G3, What Is It?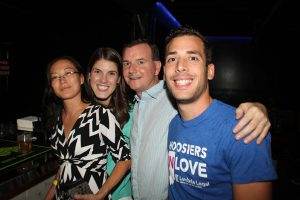 I can't imagine those words running through your mind.  If you've been here with me for a while, you already know about the metamorphosis of Gay Guys Happy Hour (G2H2) to G3 under the expert tutelage of Pete King.
The 2nd Friday of each month is reserved for the traveling roadshow that is G3.  Pete King and the team divine a fabulous new location through some sort of out-of-body meditation experience (I've heard mushrooms are involved ;-).
With the location set, the Tucson G3 team then sets about transforming the location with welcoming decorations and excellent drink / dinner specials.  Add local Tucson singles and fun couples to the mix and you have an incredible event series.
Come Down To RED'S Smokehouse for Tucson G3!
Now that you know, you have no excuse not to be at RED'S Smokehouse this Friday, between 5 and 9pm.  You get an awesome time, interesting people, and a fantastic location.  Tucson G3; what's not to love?
Tell Them Tony Ray Sent You 😎
Get All The Details for Tucson G3 February 2018 at the GayTucson Events Calendar!