& Gallery is owned and overseen by East Sleep Work and is an art gallery unlike any other in Tucson. While many galleries here focus on Southwest fine art & Gallery takes an entirely different approach. Here you will find zines, sequential art, low brow art, anime, and so much more. They showcase local Arizona artists and give them a place to shine that's off the beaten path.
A New Beginning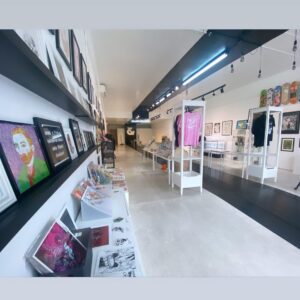 In 2019 the &G moved from its small space at Grand and Stone to 4th avenue, the hub of downtown Tucson. Since its grand reopening, the gallery has put on numerous exhibitions showcasing local talent and forward-thinking artists. Its mission is to not only lift up locals but offer them a safe space to showcase their art. Tucson itself is touted as a queer-inclusive city but it's important to & Gallery to actually take action and do the work. While all are welcome only those with good intentions get to stay.
Cynthia Naugle is the gallery manager, event coordinator, and social media maven. Through her connections in the community, she continues to put on exciting events and brings new opportunities to artists who formally only had an online audience.
"One of our big missions here is to amplify artists. We want to make sure we're taking our artists to the next level. I love our group shows and we can do them all the time but if we're not pushing you to be better, for each piece to be better… well we've just got to have that growth." -Cynthia Naugle
Aside from regular group shows and exhibitions, this gallery offers tons of merchandise. From original artwork to prints and stickers there's something for everyone at reasonable prices. Print and photography services are also available and if they can't do it they will point you to the people who can.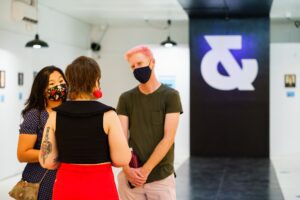 Networking nights are something new &G is trying out. Each meetup will have a theme, such as musicians or digital artists but all are welcome to attend. Getting the right information and tools to artists is just as important as getting the art made. The gallery is building a beautiful artists community here in Tucson and everyone should drop in and check them out.
Contact Details
Company Name: & Gallery
Office Address: 419 N 4th Ave, Tucson, AZ 85705
Contact Name: Cynthia Naugle
Phone: (520) 258-8451
Pricing: varies
Website: https://www.andgallery.art/
Office hours: Open 12-6 pm Thursday-Monday
Closed Tuesday and Wednesday