Welcome to Velvet & Shadow Photography, a rainbow color explosion for the eyes. But, not in an 'it hurts my head to look at' kind of way. The lighting is dreamy and the sets are custom to elicit ethereal emotions, perhaps a dream half-forgot…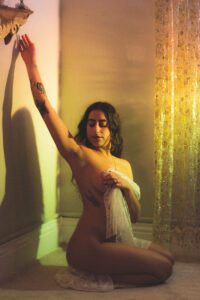 If you're a regular to 4th Avenue you may have wandered into &Gallery or deliberately gone to their art openings. And if that's the case there's a good chance you've glimpsed the work of this incredible photographer who makes every shoot memorable.
Velvet & Shadow Photography is a Tucson, AZ-based experimental boudoir photography business founded by Isabella Laos that offers personalized photoshoot sessions inside visually stunning hand-crafted sets with rainbow explosions of colorful lights. You can take part in a staging shoot where different models get to use the same set or a completely custom set you and Isabella decide on. For instance, if you want to be a fairy princess she creates the illusions to make it so.
Background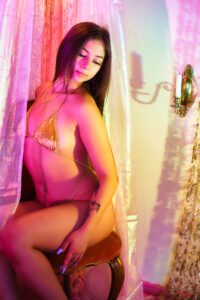 Having worked as a venue and event photographer for many years, Isabella is deeply inspired by the theatrical lights and special effects of the dimly lit stage. Isabella provides positive affirming direction and encouragement throughout each session which cultivates a truly therapeutic journey of self-discovery & empowerment. Boudoir photography makes a lot of people nervous but you don't have to worry about that with Isabella. She makes every subject feel like the only person in the world. As a result, she guarantees genuine and touching photographs.
We like Velvet & Shadow Photography because she actually listens. Whether you're having a conversation about your favorite restaurant or coming up with the perfect pirate shoot she's paying attention and making sure that you feel heard. But don't take our word for it. Here's a review from local artist
Sophie McTear
.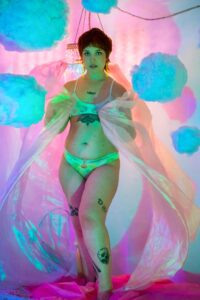 "

I love working with Bella. I feel comfortable and at ease when I'm in front of the camera with her, even when I'm in lingerie! She makes me feel confident, and her photos have such a gorgeous, dreamy quality that she's honed in on and made completely her own. I love her work and encourage anyone in Tucson to book a shoot with Velvet & Shadow!"
The Details
Company name: Velvet & Shadow
(velvet.and.shadow – Insta)
Contact Name: Isabella
Phone: 5203073775
Pricing: $150+
Website: Velvetandshadow.com