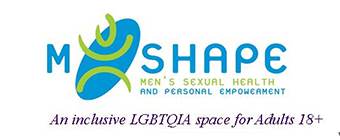 MSHAPE
375 S. Euclid Ave
Tucson, AZ 85719
Michael L. at (520) 547-6109
Website & Social Media:
MSHAPE on Facebook
MSHAPE stands for Men's Sexual Health and Personal Empowerment. This is an empowerment group in Tucson for gay, bisexual, queer, transgender, curious or questioning men. MSHAPE attends community events and coordinates their own social events and has a community lounge to hang out in.
MSHAPE utilizes health education, targeted outreach, and community event coordination in its overall program design to promote greater awareness of men's health issues. The support community is run by a core group of volunteers to who meet regularly to provide direction and feedback.
The community lounge has Wi-Fi, a lending DVD/book library, movie nights, game nights, men's health discussions, community events, volunteering opportunities, free condoms, lube, safer sex information and more. The lounge is open from 3:00 to 7:00 pm on Tuesdays, Wednesdays & Thursdays and it located downtown at 375 South Euclid.
This organization is funded through grants by the Pima County Health Department, the LGBTS Alliance Fund, the Steven J Miller Fund, and by donations from community organization: Bears of the Old Pueblo, and The International Gay Bowling Organization.
New members are always welcome!