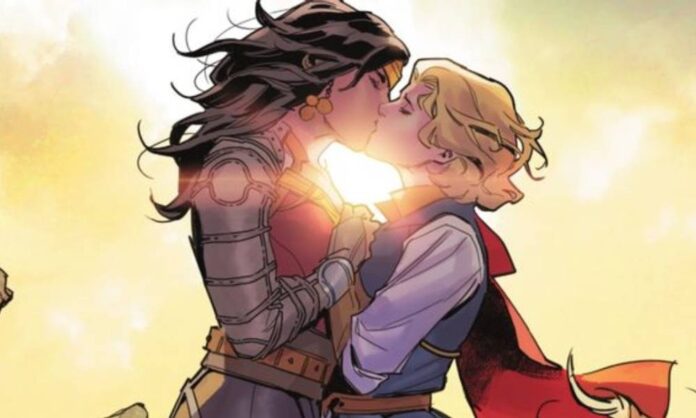 This year DC Comics has gotten decidedly queerer. First Robin flew the closet and then was followed by the son of Superman, both excepting and wanting to explore their bisexuality. Now we have Wonder Woman! Okay, okay, we know she's been "officially" queer since 2016 in the Rebirth series, but it looks like she's finally getting a girlfriend.
Then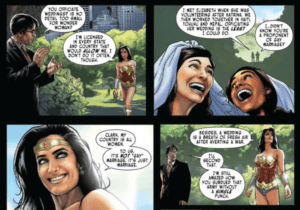 Those of us who have been following Wonder Woman knows she has always been queer. Who seriously thought she lives on an island of amazon women and never got down? Back in 2015, she officiated a lesbian wedding, Clark Kent comments that he didn't realize she officiated gay weddings. Her response was something a lot of queer people hope for. That it's not a gay wedding, it's just a wedding.
Going farther back than that is a 2003 issue where Wonder Woman is at a press conference and a reporter asks her if she has a boyfriend. She answers in the negative and goes on to point out that she doesn't currently have a girlfriend either.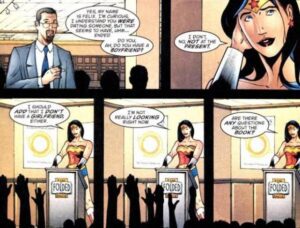 Now
In the new series titled, Dark Knights of Steel, our heroes are set in medieval fantasy land. Given that background, they are taking considerable writers liberties with the history that most DC readers are familiar with.
Here in this new world Kal-El (Superman) has a sister and their father is alive (for a little while.) Zala-El trains with Princess Diana on Themyscira until Debbie Downer Lois Lane comes to the island to deliver bad news to the alien warrior. Wonder Woman and Zala-El share a passionate kiss before she flies up up and away.
Apparently, this is all we get to see of their relationship in the issue. However, it's been hinted by GamesRadar that Zala-El's relationship with both Wonder Woman and her super sibling in future issues of this limited series run. We don't know about you, but we've got our fingers crossed for more of the lady loves.