We love supporting local and this week we caught up with Arizona-based rapper Kenny K. Royal. At the end of February, he dropped the second single, "Hells Kitchen," from his upcoming album. Let's see what's going on.
GayTucson: You're a rapper, what brought you to, or was inspiring to get you on that path? How long have you wanted to be in music?
Kenny K. Royal: My best friend was already making music when we were in our teens and I remember thinking to myself "I'd love to do that too!", but I can't sing at all! So I decided to express myself musically through rap. My biggest inspiration in rap was Nicki Minaj. She inspired me to rap the way that I want to and not rap the way I thought I should due to the rappers out at the time when I was like 17/18.
GT: What were the biggest obstacles you overcame to get here?
KKR: My biggest obstacle has definitely been self-doubt. I question how good everything I write is and it stopped me from releasing music for a long time. I finally forced myself to just let it go and put my work out there. Even if it's not "perfect" it'll be even better to see my growth when looking back. And I have loved the journey so far.
GT: What thought went into the current iteration of yourself. You are gorgeous, glamorous, jet-setting. Give us a glimpse into how that vision came about,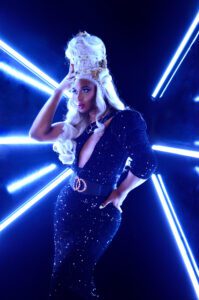 KKR: Well as a teenager I was never able to express myself the way I really wanted in fear of homophobes and what family would think. I remember watching a show on Bravo or E! called "Tabatha Takes Over" with this hairstylist named Tabatha Coffey. She ALWAYS wore black. ALL Black with this platinum blonde hair. And I just remember always loving that aesthetic. There also was a running joke amongst my friends when I was younger about me being a dumb blonde and it lead me to bleach my hair blonde whenever I could.
As I got older and discovered myself and my style more, it's just been my aesthetic to have blonde hair and black/white attire. I also love leopard print so I toss that in whenever I can. It's made shopping for clothes soooo much easier.
GT: How has life in the public sphere changed you? What do you do now that you didn't before your life as a rapper?
KKR: I think hearing some people's unfiltered opinions about your art is what changed the most. I used to make YouTube videos so I would get comments about me as a person and it didn't really bother me. But, sometimes non-constructive criticism can put you in a mood. I try to not take it personally and move on because we live in a land of trolls online right now. I do appreciate constructive criticism though. To help me reflect, learn, and grow as an artist.
GT: If you could speak directly to the queer youth concerning a path in the arts, what advice would you give them?
KKR: Always stay true to yourself no matter what. Even at times where it seems that people hate you for being you, know that there are people you will meet and they will love you for being your authentic self. Dull your shine for no one.
GT: We love that. Has anyone else helped you along the way that you'd like that thank?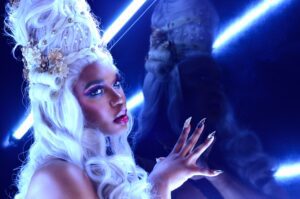 KKR: I'd love to thank so many of my family and friends who have supported me by listening to even one song. But special thanks to my best friend, Kimokeo, who got me wanting to write music in the first place. My fiancé, Aaron, is always telling me how proud he is of me for putting in this work and being a great support system. Another great friend, Solomon, who I observed putting out his own music and inspiring me to kick aside my self-doubt and just put my music out there. And my mom… for literally everything she's ever done for me.
GT: Thank you so much for taking the time to talk to us!
To follow Kenny you can find him across these apps: