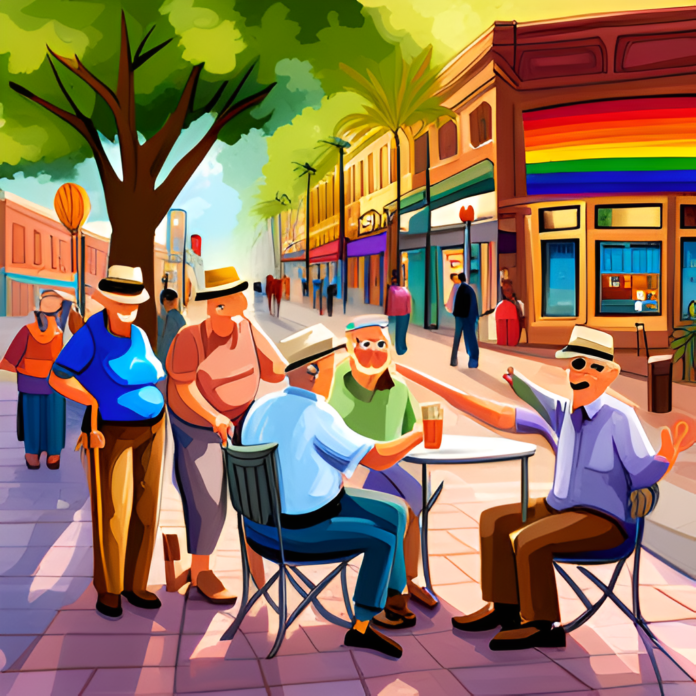 Tucson, the vibrant city nestled in the heart of the Arizona desert, has earned recognition as a top destination for gay retirees. In a recent ranking by LGBTQ Nation, a leading web outlet focusing on LGBTQ+ news and lifestyle, Tucson stands out among the best mid-sized cities for its unique blend of cosmopolitan living and small-town charm. With a perfect score on the Human Rights Campaign Municipal Equality Index, LGBTQ+-affirming laws, and a range of cultural offerings, Tucson offers a haven where retirees can embrace their identities and enjoy an exceptional quality of life.
As the Baby Boomer generation continues to retire at unprecedented rates, the need for diverse retirement options tailored to the LGBTQ+ community is on the rise. With the population of individuals aged 65 and older expected to double by 2050, over 5 million community members will be seeking retirement destinations that cater to their economic circumstances, cultural preferences, and healthcare needs. In response to this growing demand, LGBTQ Nation has compiled a series of rankings to help individuals make informed choices about their golden years.
Tucson's Allure: The Perfect Blend of Nature and Culture
Nestled about a hundred miles southeast of Phoenix, Tucson offers all the allure of a desert oasis without the sprawling metropolis and scorching summers. The city, surrounded by five stunning mountain ranges and situated at an elevation of 2600 feet, captivates residents with its natural beauty and an abundance of parks and protected areas. What sets Tucson apart is its commitment to LGBTQ+ inclusivity, having been the first city in Arizona to pass an antidiscrimination ordinance protecting LGBTQ+ residents and city workers. Additionally, the University of Arizona Tucson's Institute for Lesbian, Gay, Bisexual, and Transgender Studies has played a pioneering role in advancing LGBTQ+ education.
Tucson has fostered a vibrant LGBTQ+ community with a plethora of cultural offerings that appeal to retirees. The city boasts a thriving arts scene, including galleries, music venues, museums, and historical sites, where retirees can immerse themselves in artistic and intellectual pursuits. The presence of renowned universities like the University of Arizona and Arizona State University provides opportunities for lifelong learning through classes and lectures.
Supportive Resources and Healthcare Facilities
Retirees can find solace in the abundance of resources available in Tucson. The city hosts 25 retirement communities catering to various lifestyles and preferences. With five major hospitals in the area, retirees can rest assured knowing that their healthcare needs are well taken care of. Local organizations like Southern Arizona Senior Pride and Elder Circles provide support, community engagement, and advocacy specific to the needs of LGBTQ+ seniors.
Tucson's appeal is further enhanced by its affordability and favorable cost of living. Compared to other parts of Arizona and the United States, Tucson offers more affordable housing options, making retirement savings stretch further and enabling retirees to enjoy a comfortable lifestyle without sacrificing quality.
Tucson, an Oasis of Acceptance and Serenity
Tucson's recognition as one of the top cities for gay retirees is a testament to its unwavering commitment to LGBTQ+ inclusivity, cultural richness, and natural beauty. Retirees in Tucson can bask in the warm embrace of an LGBTQ+-affirming community, surrounded by stunning landscapes and a wealth of cultural experiences. As LGBTQ Nation's rankings highlight, Tucson is a place where gay retirees can find solace, support, and a sense of belonging as they embark on their next chapter in life.
Download the Entire LGBTQ Nation Article