Lets talk about lunch.
Go to Roma Imports and have some of the best Italian food in Tucson.
Roma Imports is an Italian food import store with a little restaurant in the back. Nothing fancy, but absolutely Italy-icious!
I like to eat lunch there and then take home some of the home made hot Italian sausage. They have one that is really hot.
They always have incredible antipasta's, cheeses, desserts, pastas and just about anything Italian your heart may desire.
I don't know the owner but I do like the people who work there. The reason I'm telling you about them is because I'm Italian and everyone should know good Italian food, gay or not.
Tell them Tony Ray sent you and have a great lunch.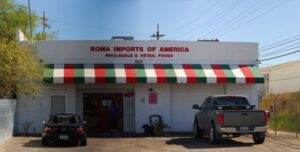 Roma Imports
627 S. Vine
Tucson, AZ 85719
520-792-3173
www.RomaImports.com
Roma Imports