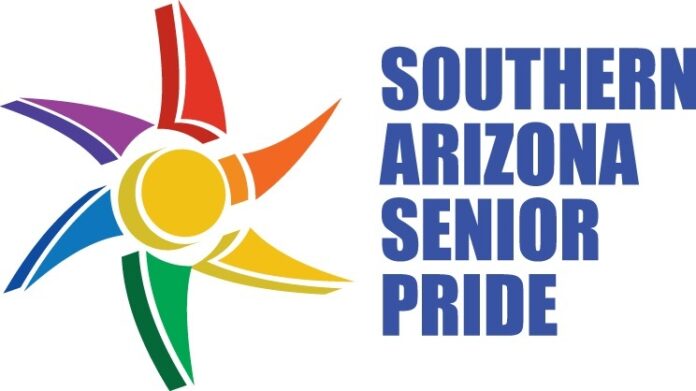 Southern Arizona Senior Pride was begun as a program of the Wingspan LGBTQ Community Center in 2002. When Wingspan closed its doors in 2014, a group of determined volunteers refused to let the meaningful Senior Pride program disappear. They came together, asked SAAF (Southern Arizona AIDS Foundation) to act as fiscal sponsor, and grew the organization on their own. In January of 2022, Tucson Senior Pride became an independent 501(c)3 nonprofit organization managing many programs and senior services.
Sign up for the Tucson Senior Pride weekly e-news here to stay informed of their many programs.
Senior Services & Activities
SENIOR PRIDE COMMUNITY CARES PROGRAMS In this program, trained volunteers offer friendly visits and phone calls to LGBTQI+ isolated and homebound people, including individuals with disabilities of any age.
HONORING A LIFE: ADVANCE MEDICAL CARE PLANNING WORKSHOPS
educate about powers of attorney and living wills while providing necessary legal documents; this program offers opportunities to meet one-on-one with trained staff to complete documents.
MOVING FORWARD TOGETHER: GBTI+ MEN'S LOSS GROUP
This group is for those who want to share their story and learn to navigate their loss in a safe environment.
SENIOR PRIDE BOOK CLUB
Meets virtually every third Wednesday of the month from 2-3:30 pm to discuss relevant books.
SENIOR PRIDE GAYME DAY
Make time for play and bring your favorite game or play one of the many available. The group meets monthly at the Community Room at Habitat for Humanity 3501 N Mountain.

MEMORY CAFÉ AT KATIE
Memory cafés provide those with cognitive decline and their friends, families, and caregivers a welcoming environment to engage in experiences with them in mind.
GATHERING IN THE PARK
Monthly informal outdoor gathering at Himmel Park for conversation and companionship
WALK AND ROLL
Easy walk around Tucson's nature settings each month.
Regardless of age, it's always the right time to reach out to an LGBTQIA+ senior. Ask them to a Senior Pride event this month. Visit: So Az Senior Pride for a calendar of events.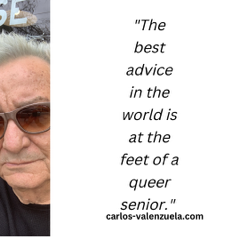 Carlos Valenzuela is an award-winning bilingual writer and a past global beauty educator. He writes about positivism and success and is the author of the multi-award-winning novella Letters to Young Carlos and its sequel, Camaleón, The Lost Years Living in the Closet.    Visit him at www.carlos-valenzuela.com