Kristi Frank Agency, INC.
4319 E Broadway Blvd
Tucson, AZ 85711
Office: 520-323-0017
Fax: 855-383-8085
Website
E-Mail: kfrank@amfam.com
24-Hour Claims Reporting: 800-374-1111
I've known Kristi Frank for years and she always has been someone in the community I respect and trust. And my clients, they can't say enough about her. From the minute they walk in and meet her and her associates, they know the experience is going to be different. Everyone is friendly and professional at Kristi Frank's office.
My clients have told me that they appreciate how Kristi cares enough to really examine their entire financial situation before offering her services. Best of all, she usually gets them more insurance and still saves them money. She has done the same for me.
Whether it's home owners insurance, renters insurance, flood insurance, auto insurance, an umbrella policy or a combination, you should at least give her a call and see what she can do for you.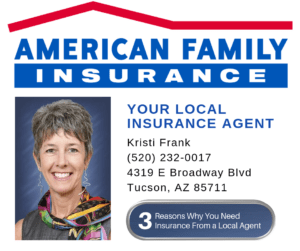 I know that when you meet Kristi, you'll feel at ease about discussing and disclosing personal information with her. You will also get an overwhelming sense that she genuinely cares about you and your needs. You'll know immediately that she is someone on your side and someone you can trust.
You'll be sending me an email with a big thank you.
A small gift would be nice too, just saying LOL
The legal stuff:
©2005 American Family Mutual Insurance Co. and its Subsidiaries
Home Office – Madison, WI 53783